Terra Formars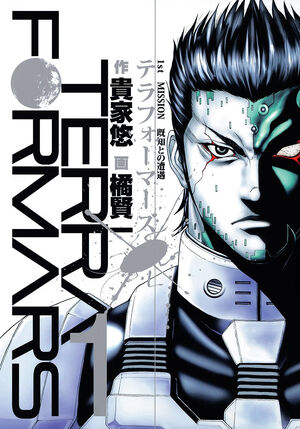 Information
Title:
Terra Formars (テラフォーマーズ, Terafōmāzu)w a
Author:
SASUGA Yu (WORK Z a a w a while cvo ok oi oi oi xzw1 a qjjjorzs ay) & sa Kenichi (Art) a w
Original Run:
January 13, 2011 - Ongoing
Published by:
Miracle Jump & Weekly Young Jump (Shueisha)
Volumes:
17+ (173+ Chapters)
Genre:
Action/ Horror / Mature / Sci-fi / Seinen / Tragedy
Terra Formars (テラフォーマーズ, Terafōmāzu) is a manga series written by SASUGA Yu and illustrated by TACHIBANA Kenichi.
With the space program attempting to travel to Mars, 21st century scientists were tasked with warming up the planet so that humans could survive on its surface. They came up with an efficient and cost effective plan of sending cockroaches and mold to the surface so that the mold would absorb the sunlight and the insect corpses would serve as a food source for the mold.
It is now the year 2577 and the first manned ship to Mars has landed on the planet and the six crew members are ready for their mission. But what they find are giant mutated humanoid cockroaches with incredible physical strength. The crew members are easily wiped out, but not before sending a transmission back to Earth. Now, humanity will send elite warriors to exterminate the mutated bugs and claim back Mars.
The series begun in the first issue of bi-monthly Miracle Jump (once every 2 months) on January 11, 2011, which was the replacement of the Monthly Young Jump. It run until the 6th issue of Miracle Jump released on December 13, 2011, and the chapters were compiled as Volume 1. While running in Miracle Jump, between the 3rd and 4th chapter, a Prologue chapter named Terra Formers One was released in Weekly Young Jump 27-2011 Issue on June 2, 2011. In April 2012 the manga moved to Weekly Young Jump and started from issue 22-23-2012 (released on April 26, 2012), with restarted numbering of the chapters and the story continued 20 years later from the previous story.
On the 2013 edition of This Manga Is Amazing! (このマンガがすごい!, Kono Manga ga Sugoi!) guidebook, Terra Formers won the first place for Male Readers, a surveys conducted among professionals in the fields of manga and publishing. Interviews in japanese and pages related to Terra Formars from the book can be see at right.
Terra Formars was one of the 11 nominated for the Manga Taisho 2013 awards (マンガ大賞2013, Cartoon Grand Prize 2013). The rest nominees are: Ansatsu Kyōshitsu, Umimachi Diary, The Bride's Stories, Ore Monogatari!!, Sanzoku Diary, Ningen Karimen-chū, Hi Score Girl, Bokura no Funka-sai, Ballroom e Yōkoso & Kui Ryōko Sakuhin-shū: Seven Little Sons of the Dragon. The nominating committee is composed mainly of bookstore staffers and any manga title that was released in 2012 and has eight volumes or less is eligible. The winner is to be announced in March 2013.
In July 2013, Da Vinci Magazine listed the top manga in the 1st half of 2013, where a group of 1,020 voters including professional book reviewers, bookstore employees, and Da Vinci readers selected the lists for the first half of the year. Terra Formars ended up taking 3rd place in the male-oriented manga.
At October 11, 2013, Viz announced at its New York Comic Con panel the license of Terra Formars for english release.
In February 2014, it was revealed that the manga will be turned into an TV Anime and OVA series. Later a Teaser for the OVA was released and in late April, a Terra Formars Kickoff Event was released on Niconico Chokaigi 3, revealing the cast & staff for the OVA series.
The May issue of Jump Kai, released in April 2014, revealed that a spin-off series of Terra Formars named Terrafo Police (テラフォポリス) will start on its next June Issue (released May 10, 2014). Manpuku Dou provided the original concept for the spinoff, and Kaito Shibano (Ben-To), will be doing the illustration. The manga will be a slapstick comedy, which will reimagine Michelle and Komachi as a police officers. 2 more spin-offs were announced to start in May 10, 2014. Terra Formars wa Oyasumi Desu. (テラフォーマーズわおやすみです。) by Shouta Hattori is set to run in the Tonari no Young Jump website with a tagline "The members have arrived … but not at Mars! It's a extremely silly spinoff!". Teach Me! Instructor Michelle (教えて!ミッシェル教官 Oshiete! Michelle Kyōkan) by Ryousangata Serebi with tagline "unbelievable erotic gag manga", will also be previewed in Tonari no Young Jump also on May 10, 2014 and then it will formally start in the June issue of the restarted monthly Miracle Jump. In October, a new spin-off started in Ultra Jump named Terra Formars Gaiden: Rain Hard, following a back story of Adolf Reinhard and drawn by KIMURA Satoshi.
In February 2015, the 12th issue of Young Jump announced that a live-action movie will be released in April 2016 and will be directed by Takashi Miike. In August 2015, the 38th issue of Young Jump also announced a 2nd season TV anime series. The 2nd season started in April 2016 and was titled Terra Formars: Revenge.
In November 2015, another spin-off by Boichi, started in Grand Jump, named Terra Formars Gaiden: Asimov. And in December started Terra Formars Gaiden: Keiji Onizuka in Miracle Jump by Nonoyama Saki. The following issue of Miracle Jump, begun a novel by Yumeaki Hirayama named Terra Formars Lost Mission II: Hibo e no Kikan. In January 2016, a 7th spin-off gag series named Terraho-kun started in Weekly Young Jump by Forbidden Shibukawa.
In February 2016, in the 11th issue of Young Jump and with 173rd chapter, the Terra Formars manga ended its Mars saga. The series continued in the 16th issue of Young Jump, starting the Earth saga with restarted chapter numbering and change of logo color font to blue, to indicate the end of the red planet saga and start of the blue planet saga.
Promotional Videos
Edit
See: Promotional Videos
Spin-offs
Edit
Volume Guide
Edit
#
Release date
Volume
1
April 19, 2012
July 15, 2014
Volume 1
List of Chapters:

Synopsis:

After humanity's first manned mission to the Red Planet was lost, a second expedition arrives. The explorers prepare to exterminate the cockroaches that were used to transform the Martian environment. They are shocked to discover that the insects have mutated into giant, aggressive humanoids with one overriding goal - exterminate the humans! But this crew of explorers has each undergone the Bugs Procedure, terrifying experimental surgery designed to make them more than human...

2
August 17, 2012
September 16, 2014
Volume 2
List of Chapters:

Synopsis:

Thailand, twenty years after the ill-fated Bugs 2 mission - Two American U-NASA agents arrive to find Akari Hizamaru, a child born after the operation, and recruit him for Annex 1, a new mission to Mars. The purpose of Annex 1 is to research the origins of a new disease that is ravaging the earth. But the reasons why U-NASA would need the incredible powers that Hizamaru possesses are still a closely guarded secret. Once again, humanity launches an expedition to Mars that has frightening implications for the future.

3
November 19, 2012
November 18, 2014
Volume 3
List of Chapters:

Synopsis:

A new mission to Mars, Annex 1, is under way. Their mission: crucial research into the A.E. Virus currently plaguing mankind. The mutant Terraformars, giant humanoid cockroaches, may hold the key to a cure. Unfortunately for the crew of the Annex 1, the Terraformars have somehow gotten on board the ship and have only one goal - total extermination! Led by Akari Hizamaru, the crew will need to rely on their superhuman powers to survive...if those powers don't kill them first!

4
February 19, 2013
January 20, 2015
Volume 4
List of Chapters:

Synopsis:

In order to protect their crewmates, Akari and Michelle use their abilities and head into battle against the Terraformars, who have adapted unique and terrifying new forms! The enemy's astounding strength forces them into an unexpectedly desperate fight. Meanwhile, the whereabouts of the other teams scattered around Mars become clear. The battle between humans and the demons they created reaches a new intensity.

5
May 17, 2013
March 17, 2015
Volume 5
List of Chapters:

Synopsis:

As the various teams try to make their way to Annex 1, Team 5, made up of Germans and South Americans, comes under ferocious attack by the Terraformars. The team leader, Adolf, struggles to survive against all odds. The American and Japanese members of Team 1 have their own battles to fight against an enemy that keeps coming, keeps adapting and won't stop until all the humans are dead!

6
August 19, 2013
May 19, 2015
Volume 6
List of Chapters:

Synopsis:

Keiji Onizuka and Team 1 are fighting as hard as they can, but the Terraformars use a clever stratagem to put them in a tight spot. Running low on their serum, the members of Team 1 may be finished unless Akari and Michelle can bail them out. But will engaging the new Terraformar cause Akari to lose himself completely? Meanwhile, Asimov's team goes into the pyramids, where they find the first transmitter whose signal was lost. How did it get there, and what does it say about what the Terraformars may be planning?

7
November 19, 2013
July 21, 2015
Volume 7
List of Chapters:

Synopsis:

As the situation on Mars intensifies, back on Earth the nations involved convene to negotiate their interests. China makes an offer of a rescue ship, forcing those at the council to choose sides. As the leaders deliberate, the humans on Mars find their conflicts reflecting those back home, as members of the expedition begin to turn on each other. Akari and Michelle make their way back to the rendezvous point, but will they be welcomed or attacked? As always the Terraformers lurk with more surprises in store...

8
February 19, 2014
September 15, 2015
Volume 8
List of Chapters:

Synopsis:

In a sad reflection of the situation on Earth, factions among the human explorers on Mars fall into conflict with each other, a fight they can ill afford as the relentless Terraformars continue to close in on them. The cockroaches have begun to display more human-like qualities, and the battle becomes even more desperate. If the humans can't set aside their differences long enough to face this threat, death is the only guaranteed outcome...

9
May 19, 2014
November 17, 2015
Volume 9
List of Chapters:

Synopsis:

A giant swarm of Terraformars is bearing down on the escape vehicle where Bao from Division 4 is holding Akari and the others captive. Virtually defenseless, Bao contemplates a horrific course of action. Meanwhile, Marcos and his team head underground with a plan to hack into the Annex's communications array and attempt to contact Earth. But Bao's treachery and his unique ability may be the end of them all, if the Terraformars don't kill them first!

10
August 20, 2014
January 19, 2016
Volume 10
List of Chapters:

Synopsis:

Pursued by Division 4, Akari and Michelle encounter a Terraformar with bullet ant characteristics. Realizing this creature has stolen her deceased father's strength, Michelle stands her ground alongside Akari. The two will be pushed beyond their limits in this fight, but even more formidable opponents are lining up to fight them, and their human enemies are still out there as well...

11
November 19, 2014
March 15, 2016
Volume 11
List of Chapters:

Synopsis:

In a bid to contact Earth for help, Keiji and the others from Division 1 infiltrate the Annex 1 and head for the communications center. With the release of Hong's bioweapon, the mission is dangerous even without the ongoing threat from the terraformars. Getting a message through to Earth may be the last chance anyone from the Annex 1 mission has to survive, but even if they can contact home base, will the leaders on Earth agree to help?

12
February 19, 2015
May 17, 2016
Volume 12
List of Chapters:

Synopsis:

Countless swarms of terraformars close in on Shokichi and the others as they try to rejoin Akari's group. The struggle for survival looks grim as one disappointment and setback follows another. Reinforcements from China are arriving on Mars, but is their mission objective to rescue or to exterminate?

13
May 19, 2015
July 19, 2016
Volume 13
List of Chapters:

Synopsis:

The Annex 1 survivors find themselves fighting on all fronts against the Chinese forces sent from earth to wipe them out. As if that weren't enough, the Terraformars themselves aren't letting up on their attacks either. A plan is formulated to rescue the Annex 1 crew but to carry it out, they'll have to cross through hostile territory while under assault all the way!

14
August 19, 2015
September 20, 2016
Volume 14
List of Chapters:

Synopsis:

Until now, all knowledge of the ill-fated Bugs 1 mission ten years ago has been kept top secret. Yet even some of the governments involved do not know everything. Some of the wreckage of Bugs 1 made it back to Earth, and so did something that originated on Earth but was never meant to come back—the Terraformars!

15
November 19, 2015
November 15, 2016
Volume 15
List of Chapters:

Synopsis:
16
March 18, 2016
January 17, 2017
Volume 16
List of Chapters:

Synopsis:
17
April 19, 2016
March 21, 2017
Volume 17
List of Chapters:

Synopsis:
18
August 19, 2016
July 18, 2017
Volume 18
List of Chapters:

Synopsis:
19
November 18, 2016
October 17, 2017
Volume 19
List of Chapters:

Synopsis:
20
February 17, 2017
TBA
Volume 20
List of Chapters:

Synopsis:
Chapters not yet in tankōbon format
Edit
External Links
Edit
|}