Terra Formars Gaiden: Rain Hard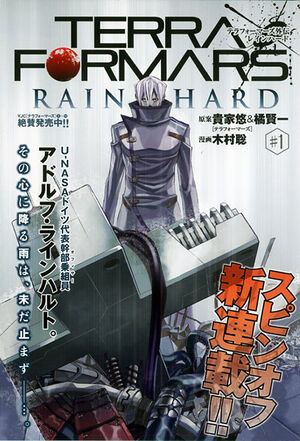 Information
Title:
テラフォーマーズ外伝 RAIN HARD
Author:
Satoshi Kimura
Original Run:
October 18, 2014 - February 19, 2015
Published by:
Ultra Jump (Shueisha)
Volumes:
1 Volume (5 Chapters)
Genre:
Action / Seinen / Sci-Fi
Terra Formars Gaiden: Rain Hard (テラフォーマーズ外伝 RAIN HARD, Terafōmāzu Gaiden RAIN HARD) is a manga series written and illustrated by Satoshi Kimura. The series is a spin-off of the Terra Formars manga series written by SAGUSA Yu and illustrated by TACHIBANA Kenichi
The 2014-41 Issue of Young Jump, released on September 11, 2014, revealed that a new spin-off series of Terra Formars named Terra Formars Gaiden: Rain Hard (テラフォーマーズ外伝 RAIN HARD) by Satoshi Kimura will start in November issue of Ultra Jump (released on October 18, 2014). The manga will be a side story about Adolf Reinhard.
Volume Guide
Edit
#
Release date
Volume
1
February 19, 2015
Volume 1
List of Chapters:

Chapter 1
Chapter 2
Chapter 3
Chapter 4
Chapter 5

Cover Characters:
External Links
Edit
Ad blocker interference detected!
Wikia is a free-to-use site that makes money from advertising. We have a modified experience for viewers using ad blockers

Wikia is not accessible if you've made further modifications. Remove the custom ad blocker rule(s) and the page will load as expected.