Terra Formars OVA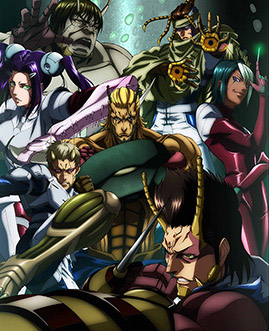 Information
Title:
テラフォーマーズ, Terafōmāzu
Animation Work:
Liden Films
Original Run:
August 2014 - November 2014
Episodes:
2
Genre:
Action / Horror / Mature / Sci-fi / Seinen / Tragedy
Terra Formars OVA (テラフォーマーズ, Terafōmāzu) is a OVA series, produced by Liden Films and based of the BUGS2 story arc of the manga Terra Formars. The 2 OVAs were released with 10th & 11th volume of the manga, each being ~25 min long.
The production of the OVA series and TV anime was announced in the middle of February 2014. Later in the end of April, a Terra Formars Kickoff Stage Event on Niconico Chokaigi 3, revealed the Staff and Cast for the OVA series. An ad in Young Jump revealed that there will be 2 OVA episodes, released as limited editions of 10th and 11th volume of the manga in August 2014 and November 2014. On May 19, the official site for the OVA opened and revealed character designs.
Original Work: Sasuga Yu & Tachibana Kenichi
Direction: Hiroshi Hamasaki
Assistant Director: Takaharu Ozaki
Series Composition: Shogo Yasukawa
Main Character Design: Masanori Shino
Character Design: Satoshi Kimura
Mechanical Design: Daisuke Niizuma, Hiroshi Souma
Prop Design: Shuuichi Hara, Daisuke Niizuma, Takaharu Ozaki
3DCG Modelling: Hiroshi Souma
"Terraformar" 3DCG Modelling: Sanzigen
Music: Shuusei Murai
Sound Direction: Takayuki Yamaguchi
Editing: Mai Hasegawa
Art Direction: Minami Kasuga
Art Design: Iho Narita, Takaharu Ozaki, Naomi Ogura
Colour Design: Yoshinori Horikawa
Photographic Direction: Keiko Ishizuka
Animation Work: Liden Films
00:37

アニメ『TERRAFORMARS(テラフォーマーズ)』TEASER PV

02:09

Anime TERRAFORMARS(テラフォーマーズ) BUGS2 Trailer "2599" version

02:09

Anime TERRAFORMARS BUGS2 Trailer "2620" version

03:04

Anime TERRAFORMARS(テラフォーマーズ) BUGS2 Trailer "UNDEFEATED"
External links
Edit
Ad blocker interference detected!
Wikia is a free-to-use site that makes money from advertising. We have a modified experience for viewers using ad blockers

Wikia is not accessible if you've made further modifications. Remove the custom ad blocker rule(s) and the page will load as expected.