Terraho-kun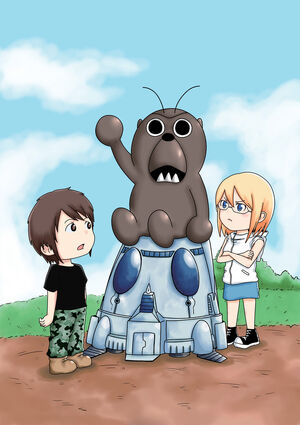 Information
Title:
てらほくん
Author:
Forbidden Shibukawa
Original Run:
January 7, 2016 - April 14, 2016
Published by:
Young Jump (Shueisha)
Volumes:
1 Volume (14 Chapters)
Genre:
Action / Comedy / Gag / Seinen / Sci-Fi
Terraho-kun (てらほくん, Teraho-kun) is a manga series written and illustrated by Forbidden Shibukawa. The series is a spin-off of the Terra Formars manga series written by SAGUSA Yu and illustrated by TACHIBANA Kenichi.
In January 2016, Young Jump revealed that a new gag spin-off series of Terra Formars named Terraho-kun (てらほくん) by Forbidden Shibukawa will start in Issue 2016-06-07 in Weekly Young Jump (released on January 7, 2016). The series concluded in Issue 2016-20 with 14th chapter and included an additional crossover chapter with the series I Am a Hero (アイアムアヒーロー) from Big Comic Spirits magazine. The 2016-20 issue of Big Comic Spirits also included a crossover chapter between the series.
Volume Guide
Edit
#
Release date
Volume
1
May 19, 2016
Volume 1
List of Chapters:

Chapter 1
Chapter 2
Chapter 3
Chapter 4
Chapter 5
Chapter 6
Chapter 7
Chapter 8
Chapter 9
Chapter 10
Chapter 11
Chapter 12
Chapter 13
Chapter 14

Cover Characters:
External Links
Edit
Ad blocker interference detected!
Wikia is a free-to-use site that makes money from advertising. We have a modified experience for viewers using ad blockers

Wikia is not accessible if you've made further modifications. Remove the custom ad blocker rule(s) and the page will load as expected.